We bring you information on the latest award-winning innovations found at EuroTier 2018, classed as the world's leading trade fair for animal production, held every second year in Hannover and organized by the German Agricultural Society, DLG.
At each EuroTier the organizers offer one gold medal and 25 silver medals to commendable products. This time the judges looked at 250 innovations from a total 300 entries.
German company Meier-Brakenberg earned the gold medal for its Speedy Trough Suction Unit. This device connects to a pressure washer and sucks wet or dry feed that has been left in pig troughs; its purpose is to prevent mold or bacteria contamination and disease.
Feed hygiene is vital to ensure animal health and performance in pig farming but all too often feed is left in troughs which become a breeding ground for bacteria and subsequent disease.
The feed sucked out can be caught in a container or drained off into the manure. After emptying, the trough can be cleaned quickly with the washing lance by simply switching over to the cleaning nozzle.
German calf product specialist Urban developed a handheld thermometer which received a silver medal. VitalControl measures body temperature via the rectum and comes with an integrated keypad and a high-contrast color screen.
During routine calf inspections, farmers can use VitalControl to scan the animal number from the transponder and measure its body temperature. The device will classify the result into a green, yellow or red status category.
The software generates alarm lists from the recorded data, processes all entered data into easy-to-read graphics and can be linked to the Urban feeder so that drinking behavior can also be included into the animal assessment.
The waterproof device has a powerful rechargeable battery and data interfaces for transferring the data to a computer or an automatic feeder.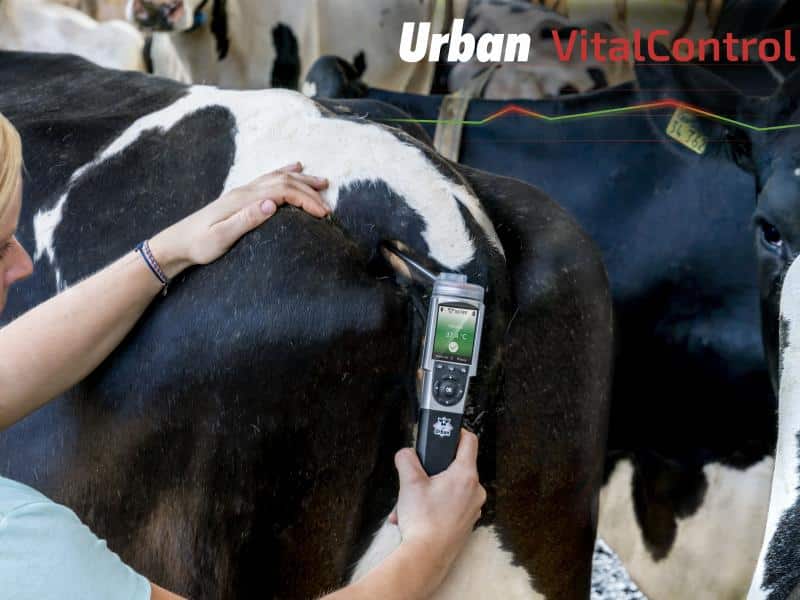 Another silver medal was awarded for a unique robot that is attached to the ceiling of a poultry house which spreads litter out on the floor after identifying damp areas.
The Sentinel Robot from French company Inateco uses visual and thermal sensors to work freely within an area of 200m. Fresh dry litter is pneumatically supplied via a hose to the robotic arm.
Additional sensors for measuring the CO2 or NH3 content in the poultry house air or even a scale can be installed on the litter unit.