Swiss people cannot live without cheese and it's that infatuation with the dairy product that ensures the country's dairy farmers stay in business. 
In fact, their love of cheese is so strong Swiss people consume a whopping 20 to 25 kilograms of it each per year. 
When it comes to numbers, Switzerland produces around 185,000 tonnes of cheese per year into over 450 varieties, including the popular Emmentaler, Le Gruyere and Sbrinz brands. 
Most of the home-produced cheese is made from milk supplied by local farmers.
And if that wasn't enough, Switzerland imports another 58,000 tonnes from abroad to satisfy the population of 8.5 million people's hunger for cheese. 
Most of the home-produced cheese is made from milk supplied by local farmers milking their cows high up in the Swiss Alps. Around 29 percent of the total number of Swiss farms is based in the mountains which mostly concentrate on milking cows. 
Locally produced cheeses are a specialty in Switzerland and there are quite a few small cheese production facilities dotted around the country each servicing the dairy farms in close proximity. 
One of those artisan cheese producers is Spezialitaten Kaseri based in Klusen manufacturing mostly Sprinz cheese from milk supplied by 30 local dairy farmers.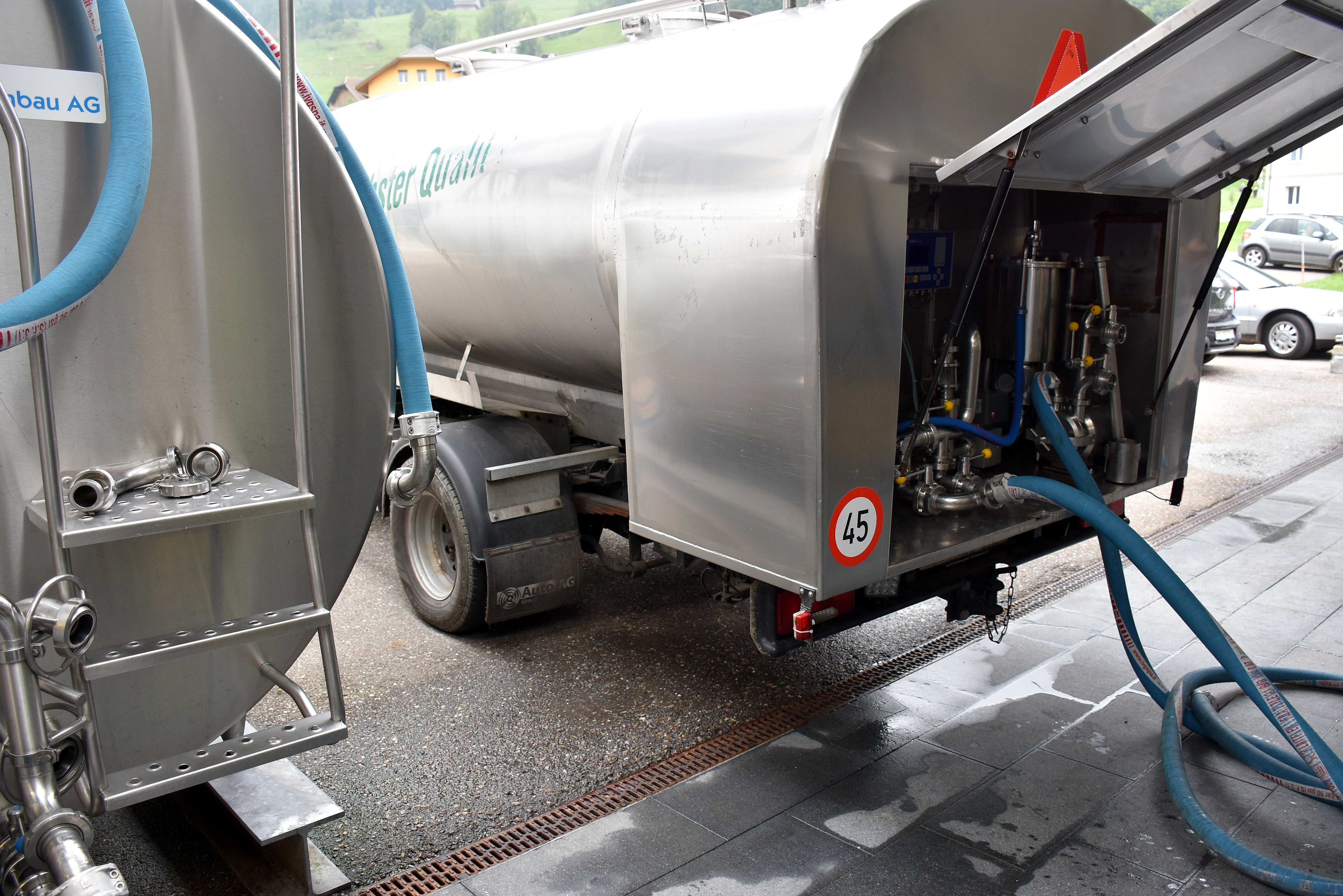 Around three million liters of milk are taken in each year by the dairy to manufacture 45 rounds of cheese per day at 45 kg each. 
Salt and bacteria are added to the milk to make the cheese," said Ibo Furer, the cheese plant manager. "We also make some yogurt and butter here as well. 
"Interestingly, our salt baths here have had the same water in them for the past 14 years. All we simply do is keep adding more salt to the baths." 
This particular dairy pays its farmers 70 Franc cents (€0.62) per kilogram for their milk. Around 30 percent of the farmers deliver the milk direct to the dairy themselves while the remainder is collected by some small tanker trucks. Ibo added:
We check the cell counts of the milk daily and test for antibiotics. The farmers are contracted to supply us with the smallest farmer producing 25,000 liters per year to the biggest one producing 400,000 liters per year." 
When the cheese is finished the factory receives nine Swiss Francs (€7.97) per kilogram from the retailers who in turn sell it for 25 to 40 Swiss Francs (€22.14 to €35.43) per kilogram. 
We rely on top quality milk from the local farmers to ensure our cheese is also the best quality it can be."