Irish animal nutrition company Alltech Keenan has upped its game when it comes to providing hardware and software to increase livestock feeding efficiency. The company's InTouch program is revolutionizing livestock feeding across the world and the latest system is really proving itself in the UK and France. AgriExpo e-Magazine chats with Eddie Daly who is the InTouch Business Development Manager with Alltech Keenan. 
AgriExpo e-Magazine: Can you explain the latest edition of InTouch? 
Eddie Daly: Our new Keenan Controller was launched in late 2017 and gives the farmer a new level of control over feeding. When InTouch was first launched in 2009, it was a manual process where farmers would use a USB key to transfer their data when they could. Then in 2011, InTouch became cloud connected. Farmers could send and receive data automatically through a global SIM card which made their job easier but also allowed InTouch to become a solution provider on farm. We had real-time data of feed usage coupled with performance data to give us greater insights and the opportunity to advise the farmer timely.
Now with the new hardware, we can control not only the loading of the mixer wagon but also the feeding out of the mix so we can tailor the diet fed to the specific pen of animals. The new controller is just like your smartphone, user-friendly, and the farmer quickly learns how to use it. The full-color display makes it easy to view in bright and dark conditions and the screen can be duplicated on a smartphone or device to go in the loader, move with the operator around the yard and work as a remote control. 
AgriExpo e-Magazine: Who is InTouch aimed at and why? 
Eddie Daly: InTouch is aimed at those who want to improve efficiency. We work with farmers and independent nutritionists alike, helping them to measure and monitor feed usage. When we combine this data with performance data, whether it is dairy or beef, the farmer or the nutritionist knows exactly what is happening on the farm and can make better management decisions. InTouch also benchmarks farms against each other and themselves, so they can compare their performance against their compatriots or how they were performing previously. This encourages farmers to improve and strive for better efficiency. 
AgriExpo e-Magazine: What benefits does InTouch have for its users? 
Eddie Daly: InTouch supports the farmer in two main ways: It directs the operator in order to load the mixer, specifically the loading sequence, the exact amount to load and how long to mix for. Also, it gives feedback on performance, everything from feed costs to efficiency so that if, for example, yield drops or changes, the system knows what the actual diet fed was so it can recommend solutions. 
AgriExpo e-Magazine: Which countries are the highest users of InTouch? 
Eddie Daly: France and the UK are our biggest markets with about 600 customers each. Ireland is also quite strong with 400 customers. 
AgriExpo e-Magazine: Are there any new plans to develop InTouch even further? 
Eddie Daly: Yes, InTouch has been evolving to suit the needs of the farmer from its beginning because just standing still is moving backwards, we must keep up with the newest technologies and innovate. We have a development team with both IT skills and practical nutrition knowledge who develop and test InTouch's integration with new tech such as NIR or other smart devices. The rate of change has increased greatly since the acquisition by Alltech in 2016 because it has opened many new networks and areas of expertise to our development team. 
AgriExpo e-Magazine: With milk prices currently at a low, how can an investment in InTouch help a dairy farmer? 
Eddie Daly: In times of low milk prices, it is even more important to keep track of your efficiency and margin. InTouch reports on the real feed costs and profit so that the farmer or nutritionist can decide what is the best feeding strategy based on the trade-off in performance. Reducing costs during difficult periods is understandable but over the long term, efficiency is the ultimate measure of a successful business.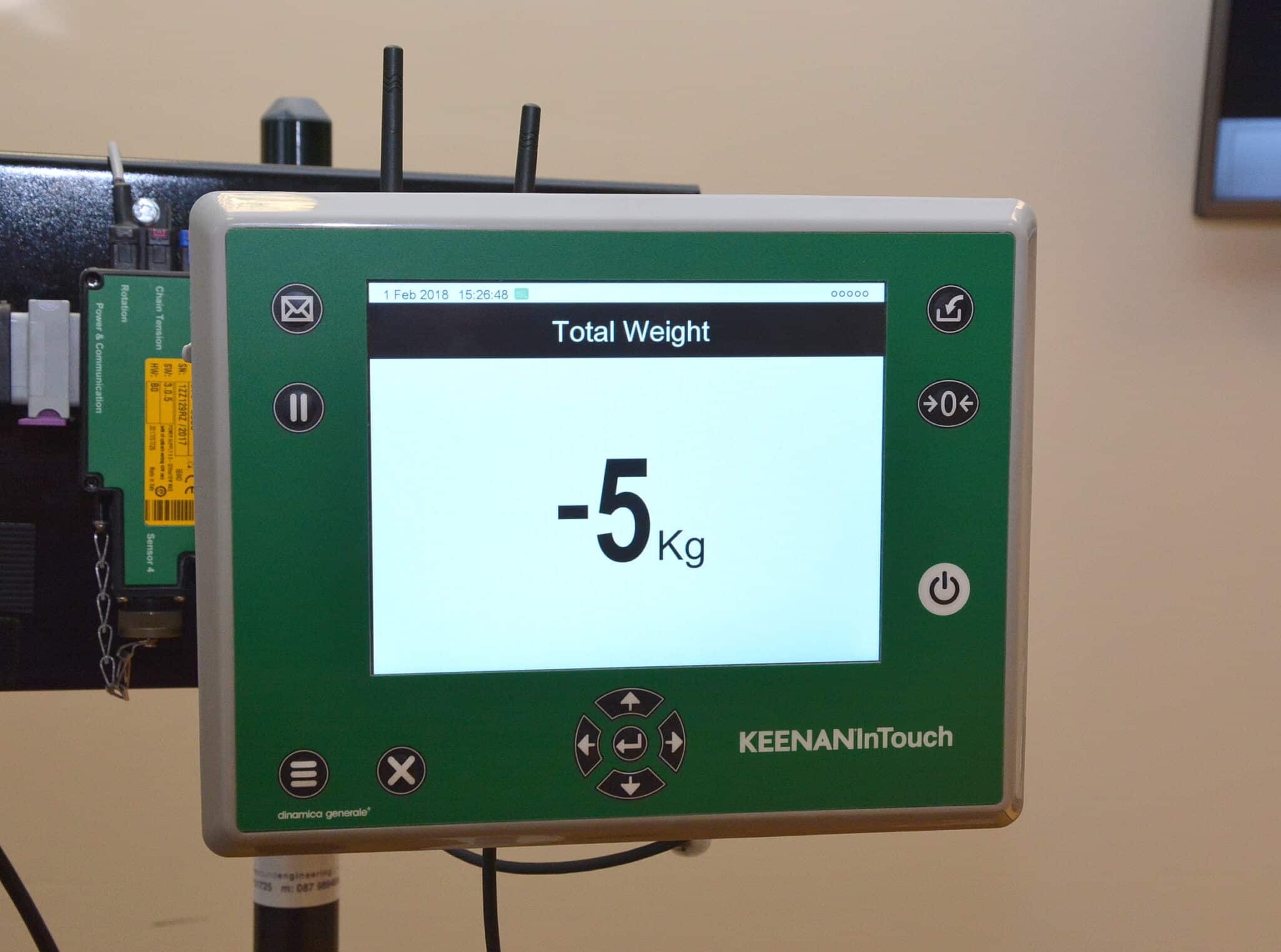 AgriExpo e-Magazine: Is there a preferred feeder wagon that InTouch can be used on in the Keenan range?
Eddie Daly: InTouch can be installed on all our six-paddle, MechFiber mixers.
AgriExpo e-Magazine: How long should the latest InTouch control program last with a farmer?
Eddie Daly: We launched the first controllers in 2009 and we still have some farmers using these originals. Usually, they change the controller when changing the wagon, since they come with new Keenan mixers as standard.
AgriExpo e-Magazine: How often are there software updates for the system and how does a farmer receive these?
Eddie Daly: We can have updates every six months or so, some of which transfer automatically and some are done through USB in a couple of minutes.